About us
About company
Gretveja is a transport company providing international freight transportation and logistics services, established in 2002.
Company mission:
To deliver cargo on time and safely to delivery point.
About fleet:
Company owns a fleet of Euro 6 standard trucks. Company purchases new trucks on a regular basis, hence the overall trucks age is on average 1,5 years. Based on this, we can ensure small deterioration percentage of trucks when providing logistics services. Company uses KÖGEL standard curtainside trailers with certification Code XL and average age of 1,5 years. Gretveja operates a fleet of 100 trucks.
About freight transportation:
We carry various cargo using dedicated trucks with tilt trailers.
Main route countries
- Germany, France, Denmark, Austria, Spain, Sweden, Switzerland and Benelux countries. We provide door-to-door cargo carriage by road transport in Europe.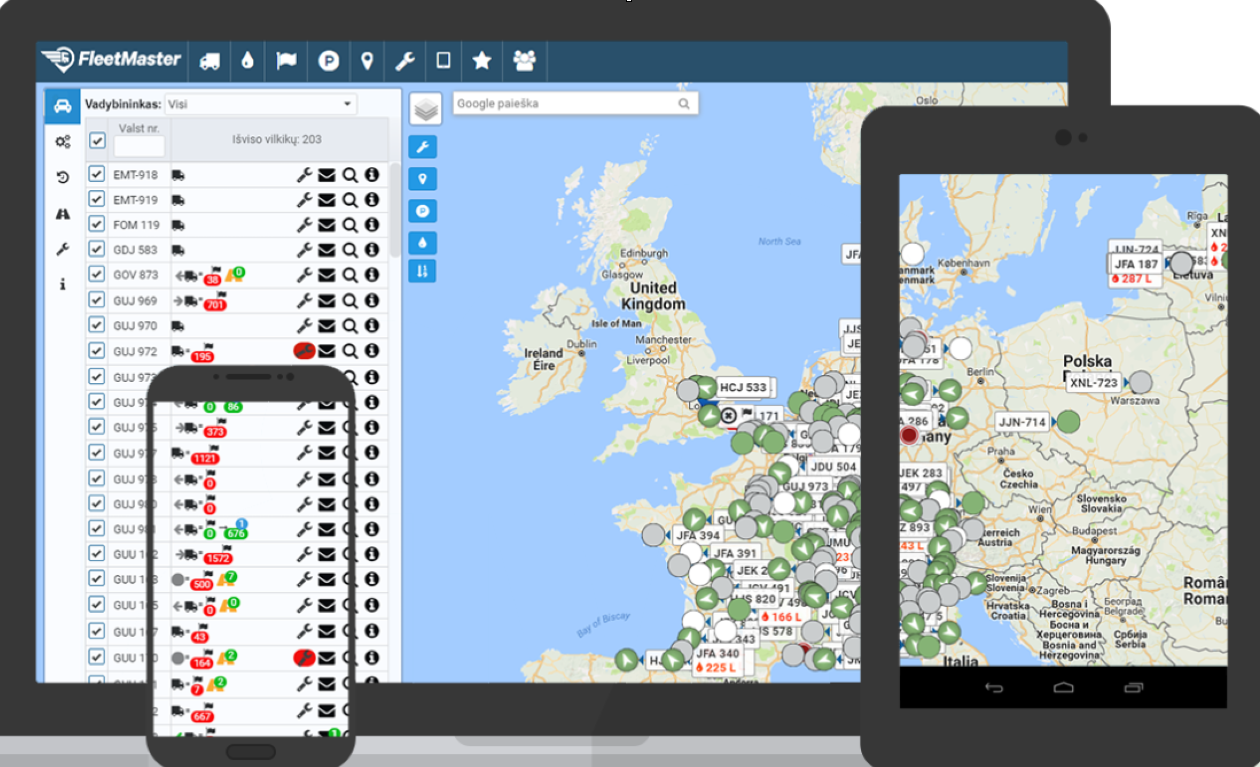 FLEETMASTER
FleetMaster Control System
FleetMaster
- is a unique transport control system that fully automates and facilitates the transport company's work related to order management, route planning, vehicle control, and etc.
FleetMaster functionality:
full integration of transport and accounting programs;
PTV (truck) maps are used for route planning;
a huge database, including: gas stations, parking lots, car wash, car service, customs, etc.;
automatic updates on fuel prices in real time;
full view of the planned route and navigation on the driver's tablet;
full access to SMS messages and correspondence in once place;
assessment of paid roads, dangerous stretches, restrictions on lorries and traffic jams;
projections of the number of visits in relation to the driving mode;
interactive vehicle monitoring;
remote capturing of tachograph DDD files.
Drivers receive clearly formulated orders directly to the tablet placed in a truck. By using tablets drivers can download and send out all necessary documents (CMR, invoices, photos and others) directly to the management office.
For customers we can offer:
the ability to place an order;
ability to monitor orders and their execution;
automatic receipt of reports ("updates").